100% natural
Take a look at our delicious and natural assortment. Find all you need!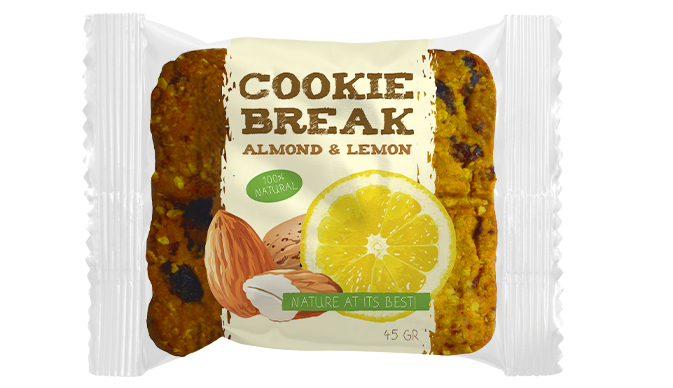 (Gr)eat cookie!
Our youngest. Because it's good to provoke at times! A fresh cookie with crispy almonds and a dash of lemon. Do you dare?
Ingredients
WHEATflour, palm oil, ALMONDS 12%, WHEATflour, oat flakes, rice syrup, corn malt syrup, apple concentrate, coconut, barley malt syrup, natural almond extract <1%, lemon oil <1%, raising agents (sodium bicarbonate), salt.
Nutritional facts per 100 grams
Energetic value 2115 KJ / 508 KCAL,
fats 28 GR of which saturated 11,7 GR,
carbohydrates 57,8 GR of which sugars 15,7 GR,
protein 8,5 GR, fibers 4,1 GR,
salt 0,2 GR.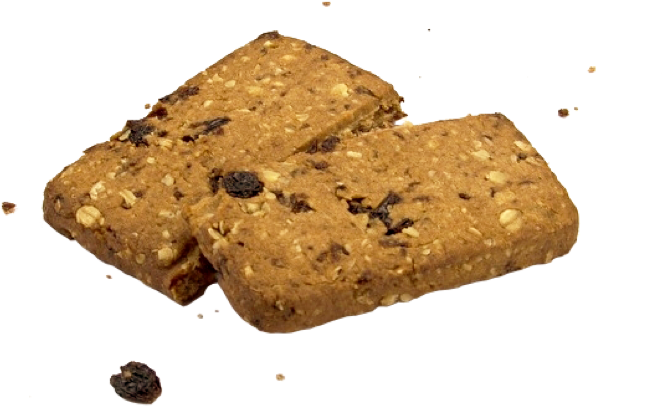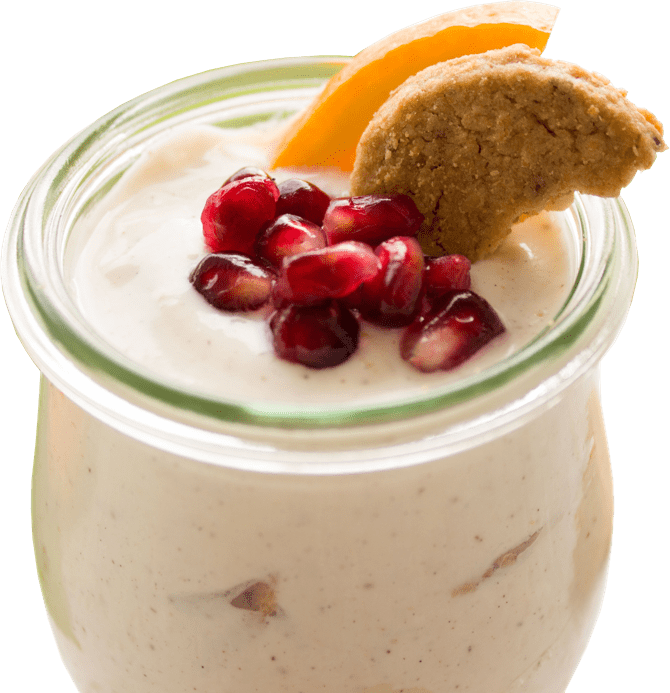 Food tip: Crunchie Koek Yoghurt
Crunch je Koek Break in kleine stukjes en vermaal het door je Yoghurt. Voeg er nog wat Honing bij toe voor de extra smaak sensatie. Ooohja, vergeet het fruit niet!!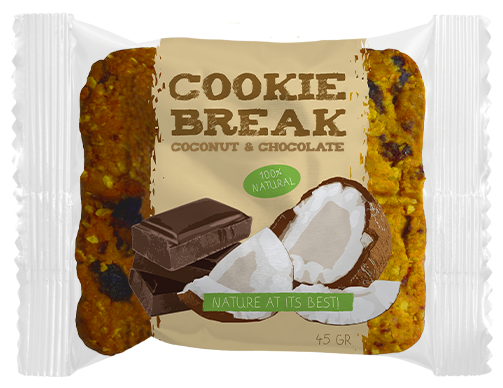 (Gr)eat cookie
One of our all time cookie favourites. Try this delicious cookie now as the perfect snack! The fresh flavours of coconut, combined with pieces of chocolate. Have you tried one yet?
Ingredients:
WHEAT flour*, OAT*(meal and flakes), palm kernel oil* (unhydrogenated), corn malt syrup*, chocolate* 7,5% (cocoa mass, coconut blossom syrup*, cocoa butter*) oat syrup*, rice syrup*, grated coconut* 5%, barley malt syrup*, leavening agents (baking soda), salt. *= organic ingredients.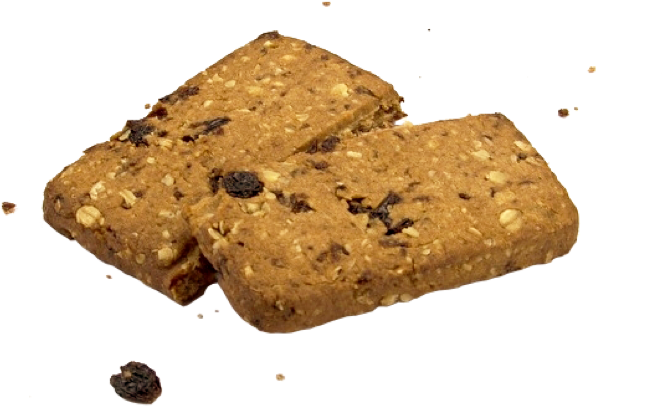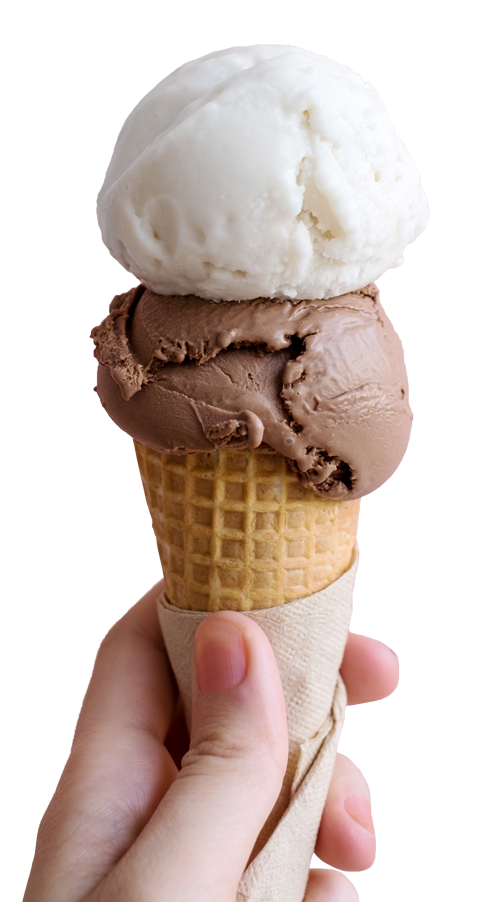 Foodtip: Cookie crumble
Crunch this declicious cookie into big crumbles and eat it in combination with your favourite ice cream. And there you go! The perfect dessert.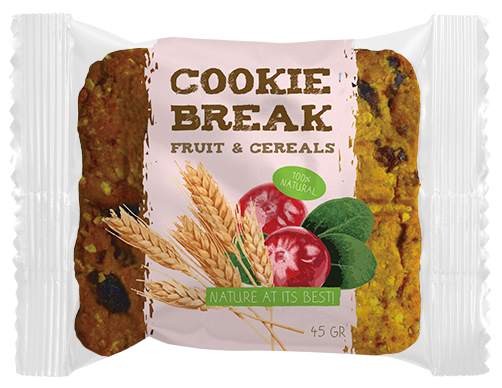 (Gr)eat cookie!
The mother of all cookies. A quest to find the perfect baker left us with this first Koek Break in 2010. A real hit. This delicious cookie, full of fruit and without unnecessary additives, is a 100% natural and is filled with fiber.
Ingredients
Granen 50% (volkoren TARWEmeel 37%, HAVERvlokken 13%) fruit 22,5% (rozijnen 20%, cranberries 2,5%), ongeharde plantaardige olie (palm),maismoutstroop, rijststroop, appelconcentraat,dadelstroop, gerstmoutstroop,rijsmiddel (natriumbicarbonaat), kaneel, zout.
Nutritional facts per 100 grams
Energetic value 1838 kJ / 439 Kcal,
fats 17,6g, of which saturated 8,3g,
carbohydrates 65,9g,
of which sugars 26,9g,
dietary fiber 5,0g,
protein 6,1g, salt 0,2g.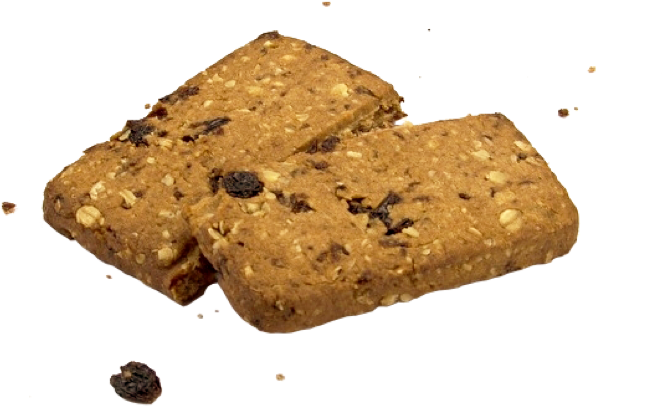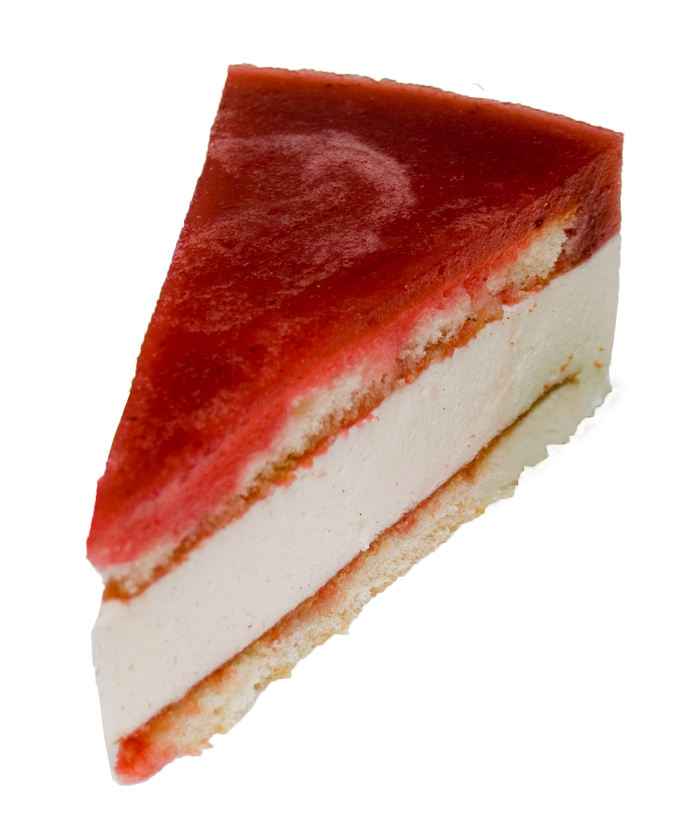 Foodtip: Crunchie Cheesecake
Crunch this Koek Break into small pieces and use it as base for the best homemade cheesecake. Enlighten your cheesecake with some fresh fruit for a taste-explosion. When will you start baking?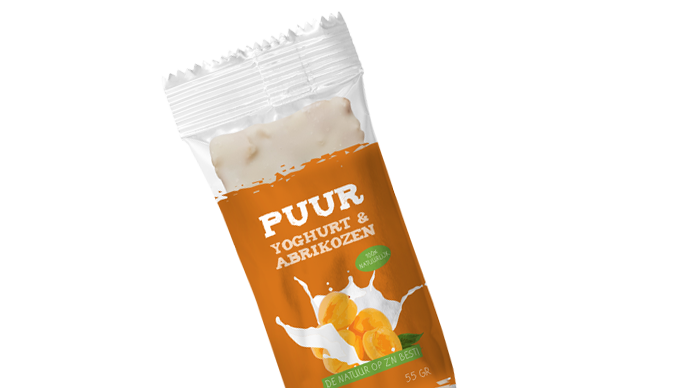 (Gr)eat bar
The diva amongst our bars. A nice layer of yoghurt around a fruit-filled bar. It looks great in your bag, on your desk, on your dashboard…
At Foodcheck we are always looking for opportunity's. And that's the reason that almost nothing is impossible for us. We provide the best 100% natural snacks (organic if you want) without sugar, sweeteners and preservatives. Not necessary according to us. We only use grains and fruit for our cookies and for our bars nuts, fruit, seeds, grains and a little bit of honey. That's it. Unique in the world. And we are more then willing to share it with you.
We have 3 delicious flavors of the cookie break. Fruit is our bestseller in the Netherlands. Cranberries, cinnamon and a lot whole grains. But we have also lemon & almond. A delicious fresh cookie with is very popular in the whole world. And last but not least. The chocolate & coconut. We love it. And we have more then 10 flavors from our bars. Every bar is a taste explosion and a perfect combination between nuts, fruit, grains and a bit of honey. But we have more. Check our product list for all our products and specifications.
Packaging
Single pack, multipack, display boxes. We can arrange it. Just let us know what you want.
B2B
What can we do for you? Easy question. But we honestly, we mean it. We want to provide you with the best service. So we can together looking for opportunities. It doesn't matter where you from or how big you are! Every client is important for us. And to make it even more easier for you.. We have the best professionals who arranges the transport and import for you. All over the world!
Why Foodcheck
We have a wide assortment of unique products without sugar and 100% natural. And our assortment is growing every year because we don't stop developing new, unique and delicious products. So you are 100% sure that you have the best and unique products the first and your assortment is always up to date. But there is more. The best services are waiting for you. 1 contact person who is available from 9 am till 10 pm. He will help you with everything and keeps you informed about the status of your order and new products. Good, isn't?
Private label
Possible as well. Printed foil, stickers or cartons. We can do whatever you want. Please contact us for all the opportunities.
Contact
Do you want to receive our product list, brochure, samples of anything else? Don't hesitate and send us a email: info@foodcheck.nl. Or fill in our contact page at our website.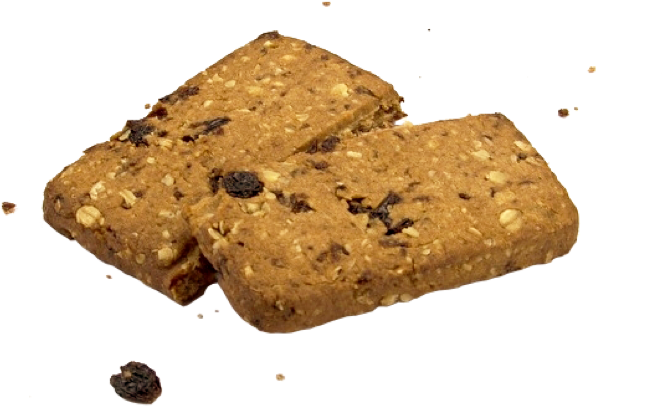 Foodcheck's background
Edwin Le Poole started working as a personal trainer in the woods near Bleiswijk Foodcheck in 2008. To help people. Help them train, exercise and lose weight, but mostly: to live healthier. Healthy nutrition is an essential part of a healthy life. This was something Edwin simply couldn't find in the gyms and vending machines where he was trying to motivate his customers. And so, the idea was born. In 2010 Foodcheck introduced the Foodcheck Break: a biscuit for in between with 100% natural ingredients. Rich in fiber, without refined sugars. A new star was born.
Foodcheck's background
From vending machines to large caterers, Foodcheck paved the way and continued to grow. In 2014, the biscout, now renamed Koek Break, was sold at gyms, groceries, wellness resorts and catering establishments throughout The Netherlands.
But… the market asked for more. In 2015 the Koek Break Volkoren, a spiced bisquit, was brought to the market. In 2016, the PUUR-bars and the Bonballs followed their ways to the market.
Foodcheck's background
Has anything changed nowadays? Not at all, all products are still 100% natural. And the Koek Break? It is still the best selling one amongst our customers! We are very proud to say that all places that ever included Foodcheck products in their assortment, still offer them!
That says enough right? Foodcheck is a natural choice!
Business or private?
We have the perfect solution for both.
Foodcheck Nederland
Postbus19
2660 AA Bergschenhoek
06-39 03 70 60
info@foodcheck.nl
www.foodcheck.nl
Kamer van Koophandel: 27307634
Questions or remarks?
Then fill in the form below.